How to get there
Follow the path hereunder to get to Explore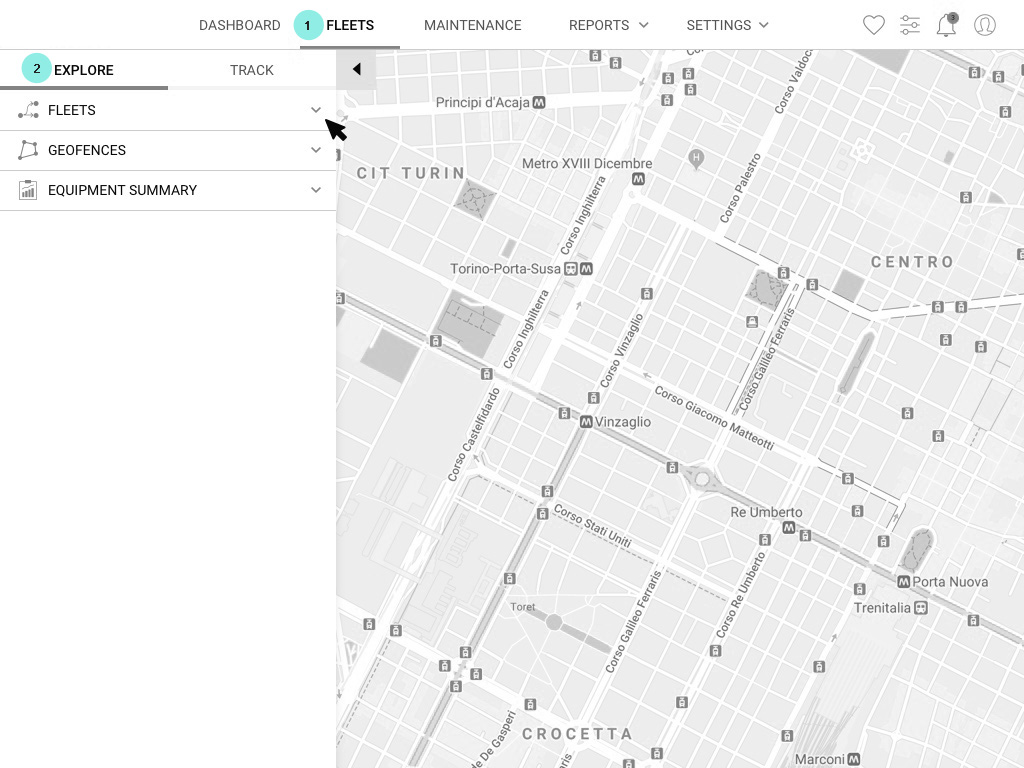 What is it about
Explore allows to find quickly a machine on the map and to get info such as: its ID card, its engine hours, the hours left till next maintenance service, its detailed localization as well as other maintenance and technical data.
Inside Explore you can also check the geofences with the dedicated tab as well as the equipment summary widget.
Fleets
To locate a machine and get its details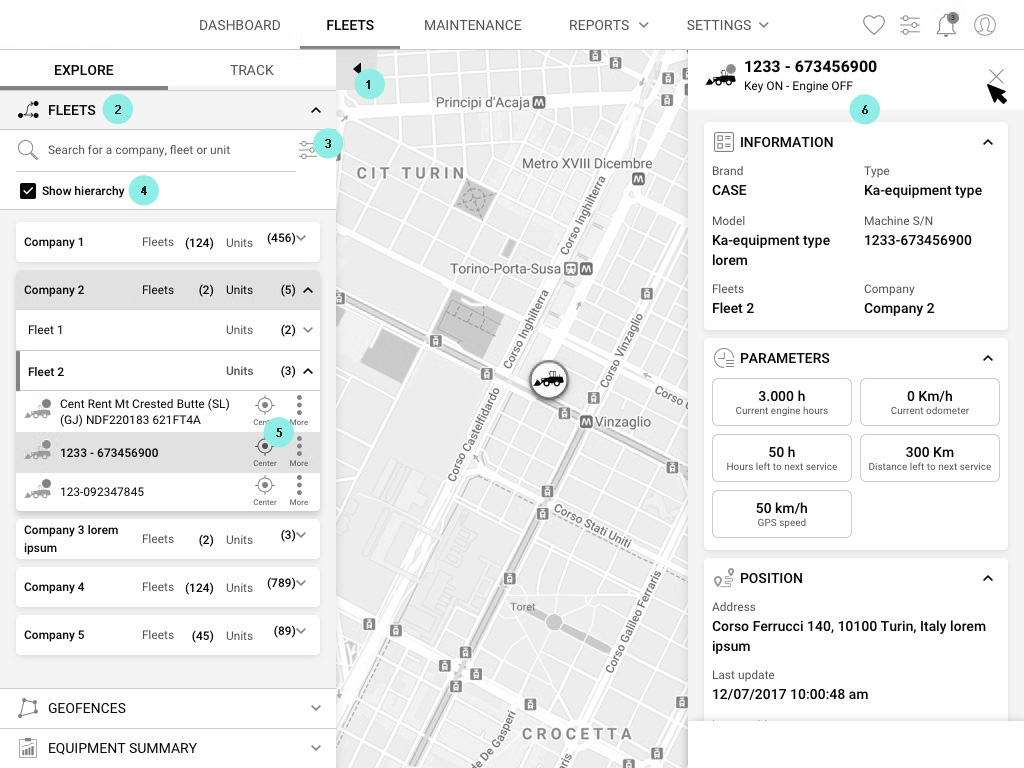 In Fleets you can search for a unit, center it on the map and get details.
Here is how it works:
1 Click the arrow to hide the panel and get a full view on the map. You can reopen it whenever you wish by clicking the arrow again.
2 To get to Fleets you will need to expand the panel. Click to expand.
3 Click the filters icon to use one filter. Click again to reset the filters. Each time do not forget to click "Save" to refresh your selection.
4 Click to show the hierarchy (shows Companies and Fleets under each Company) or to have a flat view with only the name of the units.
5 This part is dedicated to the machines. Here you can find the unit you're looking for and click center to get it centered on the map. If you click the icon on the map or if you click the unit's name in the list 6 a right hand side slide panel will come out.
6 The panel is dedicated to the machine you've clicked. Inside you will find information on
the unit's ID (Brand, Type, Model, Serial Number Company, Fleet(s))
the parameters (Engine hours and Hours left to next service)
the position
the maintenance intervals
and technical data (Subscription service level, Subscription expiration date, Firmware info)
Geofence
To control if the machines are inside the geofences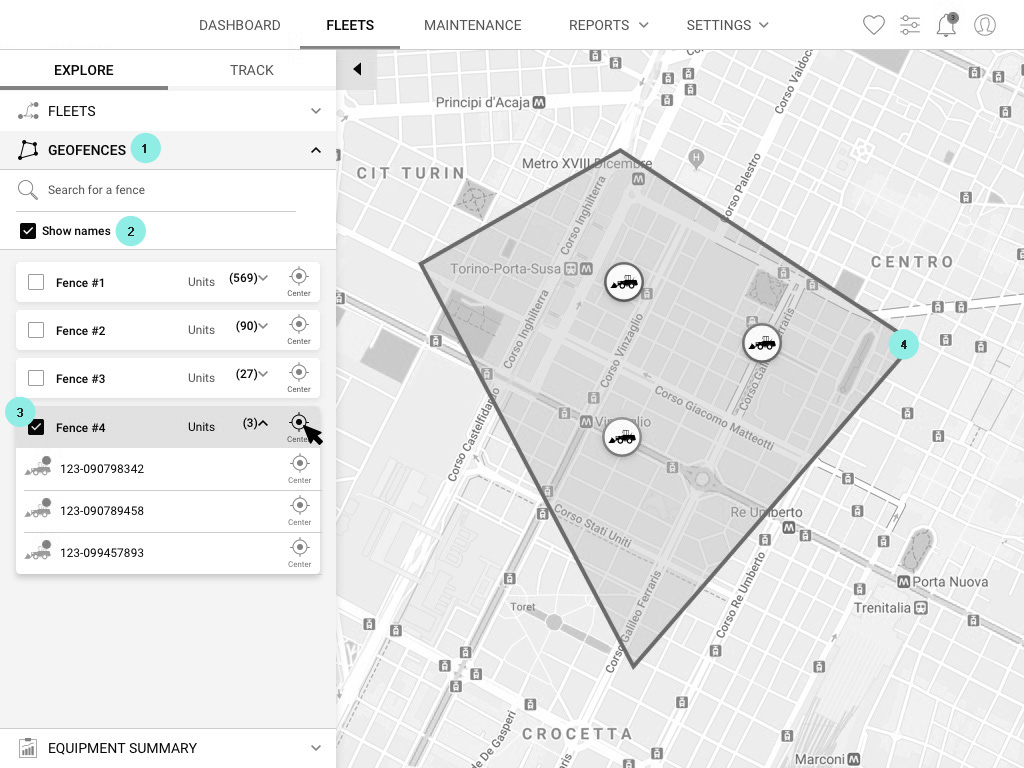 1 Click to expand the section dedicated to the geofences.
2 Click to show or hide the name of the geofence on the map.
3 Click "Center" to center the geofence on the map 4
Equipment summary
To get an idea of equipment working status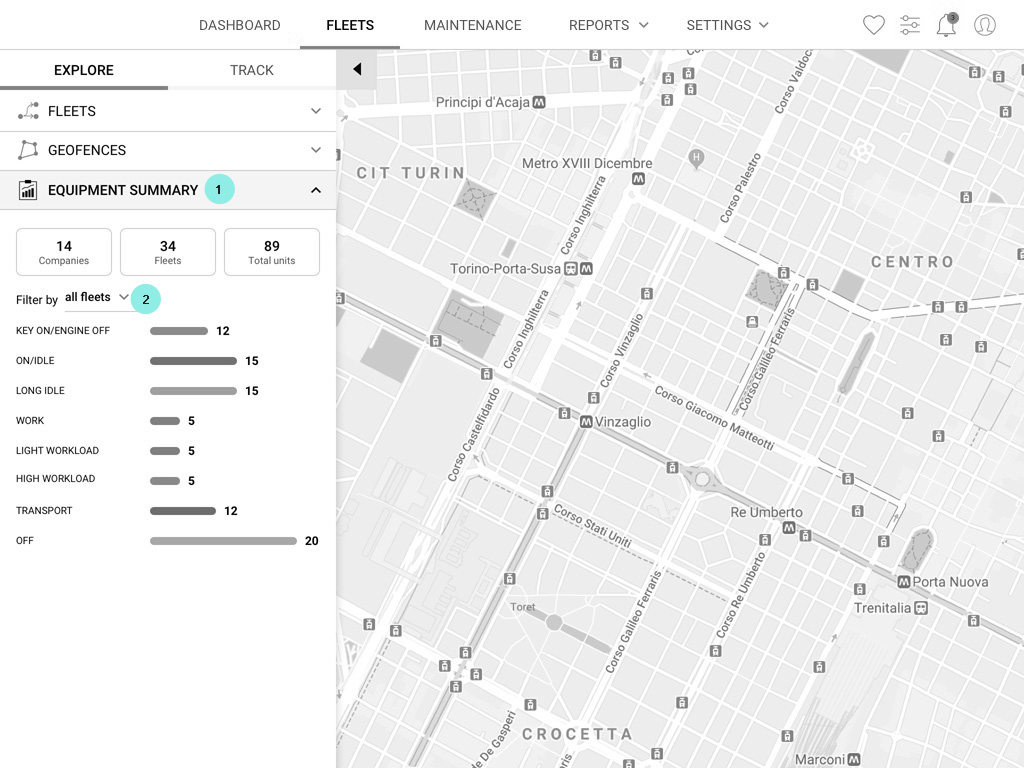 1 Expand the last tab to see the Equipment summary. In the Equipment summary widget you will find an update on the equipment utilization statuses to understand if all the units are working or if some of them are idling or are turned off.
2 Click to filter by fleet